KEY SAFETY MESSAGES — issued by the Cheshire Fire & Rescue Service
Escape Plans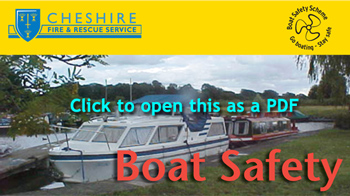 Communications
How to make '999' call including:
Name of caller.
Location i.e. Canal / River, Bridge Marker Posts, Landmarks etc.
Nature of emergency.
Which Service i.e. Police, Ambulance, Fire or Coastguard etc.
If anyone is trapped and where they are.
Speaking slowly and clearly.
Using mobile telephones, poor signal strengths etc.

Night-Time Routines
Smokers - ensure all cigarette ends are extinguished in ashtrays.
Dispose of ashtray contents in suitable flameproof container.
Isolate the gas supply to cooking appliances.
Switch off and unplug electrical appliances unless designed to be left on.
Make sure that all candles are correctly extinguished.
Close solid fuel / oil room heater doors to prevent fumes / sparks entering the accommodation space, put up fireguards.
A torch will prove invaluable in the event of an emergency. Check it to ensure it is in working order and make sure that it is within easy reach.
Keys should be kept in a prominent position for use in an emergency.

Smoke Alarms
A smoke alarm is a vital warning device that detects smoke at the earliest stages of a fire giving the occupier extra time to escape.
Smoke alarms should be installed and tested to manufacturers' recommendations.
Smoke alarms with 10 year batteries should be installed.
Smoke alarms should be tested weekly to ensure their operation.
Batteries should not, under any circumstances, be removed.
Periodic 'beeping' of the smoke alarms means that the battery needs replacing. Replace the whole unit if it is a 10 year battery!
For more information visit our website www.cheshirefire.gov.uk
Mar 07, 2010
Last Updated:

Mar 07, 2010