Introduction
Most of us take the canals for granted, but the next time you do, spare a thought for the people who built the canals. There were no mechanical diggers, just picks, shovels, muscle and sweat. What a great testament to the skill of the architects and workforce that they are still in use today.

Can you imagine what a difference the canals must have made to the industries of Britain? Instead of trying to move small loads across roads that were not very good, large volumes of salt, coal and finished goods could be moved around the country. Middlewich and the canal were really busy as narrowboats, piled high with salt, cruised through.

Middlewich is one of the Wich towns in Cheshire and lies at the coming together of the Rivers Dane, Croco and Wheelock; and the Shropshire Union and Trent & Mersey Canals.

It is an important location for salt manufacture. The town was founded by the Romans as Salinae (the Roman name for "the salt workings") after the salt deposits found in the area and was one of their major sites of salt production.

Salt manufacture has remained the principal industry for the past 2,000 years in Middlewich. Salt making is mentioned in the Doomsday book and by the 13th century there were approximately 100 "wich houses" around the town's two brine pits. By 1908 there were nine industrial scale salt manufacturers in the town with a number of open pan salt works close to the canal.

Salt produced by British Salt in Middlewich has 57% of the UK market for salt used in cooking. The canal system was vital for the transporting of salt out of Middlewich and coal for use in salt production shipped in from Staffordshire. Many local houses were built by the waterways companies and many of these dwellings had adjacent stables for the horses which pulled the narrowboats.

Commercial use of the canals has declined over the years but there has been a modern upsurge of interest in inland waterways for pleasure use. Several boat firms in the town now serve the needs of owners and hirers of pleasure craft.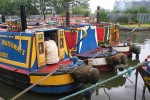 For one weekend in June, Middlewich transforms into a colourful and lively town filled with folk music and narrowboats. What a great sight it is to see every inch of mooring taken up with the well turned out narrow boats. What would have happened to our network of canals if it had not been for these enthusiasts and all the volunteers who have revitalised the network?

The whole town comes alive on the Friday night and from then on the festival never stops — it continues until Sunday night, as people make their way around the various music venues and other attractions.

If you are a canal, narrowboat or folk music fan and you missed out last year, we would love to see you here this year. We look forward to meeting new friends and would like to thank all those old friends who have returned once again this year.

---
Boaters' Booking Form
On the Trent and Mersey Canal surrounding Middlewich town this event is organised by the Middlewich Folk and Boat Festival Committee, a registered charity aimed at bringing together the practice and appreciation of the arts and the history of canals and narrow boats. The event includes a narrow boat gathering, heritage boats, craft stalls and a music festival.

This whole town festival includes international artists in the main festival marquee and various free events throughout the town. The festival begins Friday evening and runs until Sunday evening.

We do not charge for mooring and mooring is done on a "turn up and moor up" basis – first come, first served. The committee are a small party of volunteers who all work full time, and we do not have the man power to designate and mark out individual moorings.

Please note that filling in this form does not reserve you a mooring at the festival. We ask you to fill it in purely so we have an idea how many boats will be attending the festival, so we can liaise with BW about what to expect. It also helps us secure funding for future years, if we have "proof" that "X" amount of boats come to the festival – don't worry your details will not be passed on.
Boaters' Booking Form 2010
can be downloaded here —
print/save a PDF document
if you wish to manually fill in and post/fax it, OR,
download a Word DOC
if you want to add details by computer then email back as an attachment (
important
: read the DOC footnotes for fill-in guidance).
---
Boaters' Goody Bags
These can be collected from the Salinae Field on Saturday, from 10am. If we haven't already had a boaters booking form from you, you will be asked to fill one in.
One bag per boat! 

---
Advice on where to moor
Mooring is possible at the following locations subject to space and compliance with BW regulations:
Boats arriving on the Trent and Mersey Canal from the South are advised to moor above Kings Lock or on the Middlewich Branch of the Shropshire Union Canal.
Boats arriving via the Shropshire Union Canal are advised to moor above Wardle Lock on The Middlewich Branch of the Shropshire Union or above Kings Lock on the Trent and Mersey Canal.
Boats arriving on the Trent and Mersey from the north are advised to moor above Big Lock but not beyond Town Bridge.
Heritage Boats – a space has been reserved above Kings Lock on the Trent & Mersey Canal. This area will be indicated by signage (please respect the "reserved for heritage craft" signs and keep the area clear for them).

Please do not moor too close to the winding holes or to bridges or you may be asked by BW to move.
---
Boaters wishing to trade at Festival
For those boaters wishing to trade direct from their own boats, rather than a separate pitch with other traders, you may buy frontage space by the foot (i.e. 12") using PayPal. Please note that mooring is still first-come, first-served and if you arrive too late to secure a towpath-side spot and you are unable to trade, you may apply for a full refund. All boat traders MUST have a current BW Trading Licence. Here's the PayPal link:
You will need to bring a print-out of your PayPal purchase confirmation as proof, please.
---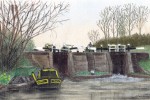 For further information contact :
Kate Fletcher (e-mail), Middlewich Boat Festival Director:
36 Trawden Avenue, Smithills, Bolton. BL1 6JD
Tel: 01204 844671 Mob: 07855 395290
Feb 28, 2010
Last Updated:

Mar 07, 2010